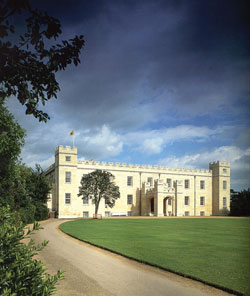 In the company of Sir Timothy Ackroyd; the jaunt will include either lunch or dinner at an exclusive venue.
Timothy is one of Britain's incomparable and visionary storytellers, he gives his clientele an eccentrically diverse insight into his personal recol‐ lections and combines research at historical locations, with the extraordi‐ nary friends who have influenced his life.
Numbers are limited to give these bespoke and tailored tours an intimacy and uniqueness which is profoundly touching, thought provoking and ulti‐ mately enriching.
"Sir Timothy Ackroyd held a room full of our guests from the United States in the palm of his hand during a recent tour of Hampton Court Palace. " – Paul F Hartzell, Senior Vice President, DataSite, Merrill Corporation Ltd.  
Home to the Dukes of Northumberland, boasting the finest Robert Adam inte‐ rior in England, Syon has been at the centre… contact us for details
The City of London, Guildhall and Bow Bells
Since the middle ages The Guildhall has been the centre of Government of The City of London. The current build‐ ing has stood… contact us for details
One of the most impressive of the Royal Palaces . Particularly associated with Cardinal Wolsey and his master the ruthless… contact us for details